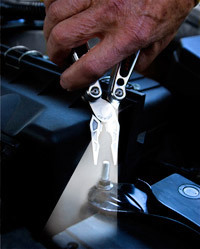 Full sized and micro versions of tools available
Portland, OR (PRWEB) December 15, 2009 -- COAST Products introduces two new multi-tools with LED lights built into the handles. The LED Micro Pliers (model C2899) and the LED Pocket Pliers™ (model c5799) are part of the COAST line of Professional Use multi-tools. This line of multi-tools combines modern design, high tech materials and the highest level of manufacturing quality and craftsmanship in each piece. The tools are targeted at all of COAST Products' distribution channels, including hardware, sporting goods, professional automotive and police/military.
"These tools are an important addition to our multi-tool line-up," said David Brands, President of COAST Products. "The LED light on this tool is a feature that other multi-tool manufacturers simply do not have."
The LED light source on each multi-tool is positioned so that it will illuminate the area of the pliers head and is operated by a simple on/off switch. Both tools feature 440c stainless steel construction and tools. The handles have a sleek chrome finish for durability and rubber inlays for sure grip. The pliers' head on each tool is spring loaded, making the pliers or wire cutters simple and easy to use.